For coalbed gas reservoirs to be assigned Contingent Resources under the Petroleum Resource Management System (PRMS ), direct gas content measurements are needed. These measurements are almost always undertaken using 'gas canisters'.
Cipher has been providing 3rd-party, independent certification of results on a canister-by-canister basis for over a decade. The certification ensures that the results are real, correctly collected and calculations are standard.
Cipher recommends that gas content determinations follow one of the widely accepted standards such as ASTM D7569 or the Australian Standard AS 3980-1999 .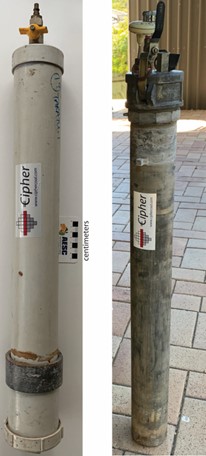 For Cipher to certify canisters the following information is needed to calculate lost gas and confirm measured gas:
Drilling time information: Two types of gas canisters

Start coring time
Time core off bottom
Time core reaches surface
Time sample is sealed in canister

Gas volume measurements (cc) each with the corresponding information:

Ambient temperature
Water (or foam) bath temperature (if taken)
Atmospheric pressure (absolute, uncorrected for elevation)

For determination of canister head space and coal mass:

Canister weight – empty
Canister weight – with coal
Canister weight – with water

All electronic measurement instruments (barometers, temperature sensors and balances) must be calibrated on site and calibration records must be available upon request

All data above is ideally given in computer spreadsheet form, updated daily, and with robust data entry cross check methodology
Original hand written field sheets are also required for further verification of entered data
If residual gas is determined (which is always recommended) then the following information is needed for certification:
Sample mass
Volume of evolved gas
Ambient pressure, temperature and time/date of measurement.
Verification that samples are regularly checked to have been crushed to specified size in order to comply with testing standard
Final gas determinations also require the following analyses for samples on a canister-by-canister basis:
% ash yield (as-received or as determined basis)
% moisture (as-received or as determined basis)
Relative density
Certification Deliverable
Each canister has an individual certificate, which is signed, stamped and shows lost, measured and total gas curves. Final gas content values on both an as-received and dry, ash-free basis are also given.
To ensure viable certifications contact us before you start drilling!
Tim Moore
tmoore@ciphercoal.com
+61 439 228 188