The 2nd edition of "Coal and Coalbed Gas: Future Directions and Opportunities" is in production and should be out in September of 2023 – this year!
 As many of you know the first edition was published in 2014 by Dr Romeo Flores and the second edition is authored by Romeo again as well as Tim A Moore.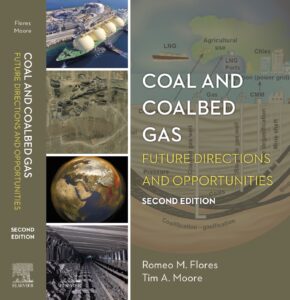 This multidisciplinary volume covers everything from exploration of coalbed gas to its transport in pipelines and tankers, from the formation of peat to coal's utilization in thermoelectric power plants. In this book you will find topics on the local to global environmental and groundwater impacts from development of coal and coalbed gas as well as discussion of global climate change due to CO2 and CH4 emissions from power plants, coal mines, and peatlands. The future of organic-rich horizons such as coal is also examined and how innovative uses of solid carbon ore sourced from coal can contribute to a global net zero carbon emissions world.
This new edition introduces the latest in coal geology research and the engineering of gas extraction. Importantly, the second edition examines how, over the last 10 years, research has both changed focus and where it is conducted. This shift essentially depicts "a tale of two worlds"—one half (Western Europe, North America) moving away from coal and coalbed gas research and production towards cleaner energy resources, and the other half (Asia–Pacific region, Eastern Europe, South America) increasing both research and usage of coal. These changes are marked by a precipitous fall in coalbed gas production in North America; however, at the same time there has been a significant rise in coal and coalbed gas production in Australia, China, and India.
 Keep a look out for it on the Elsevier website: Book Website